Formerly Homeless Family Reunited for Christmas
After Five Years of Heartache, While Parents Lived in a Tent, S.F. Family Reunited for Christmas

Kevin Fagan
San Francisco Chronicle
December 25, 2022
 
There are six people on a hill overlooking the bay in the south part of San Francisco who don't expect presents this Christmas morning — even though they've got two decorated Christmas trees in their apartment, the littlest among them believe in Santa Claus, and they all gave toys to charity last week.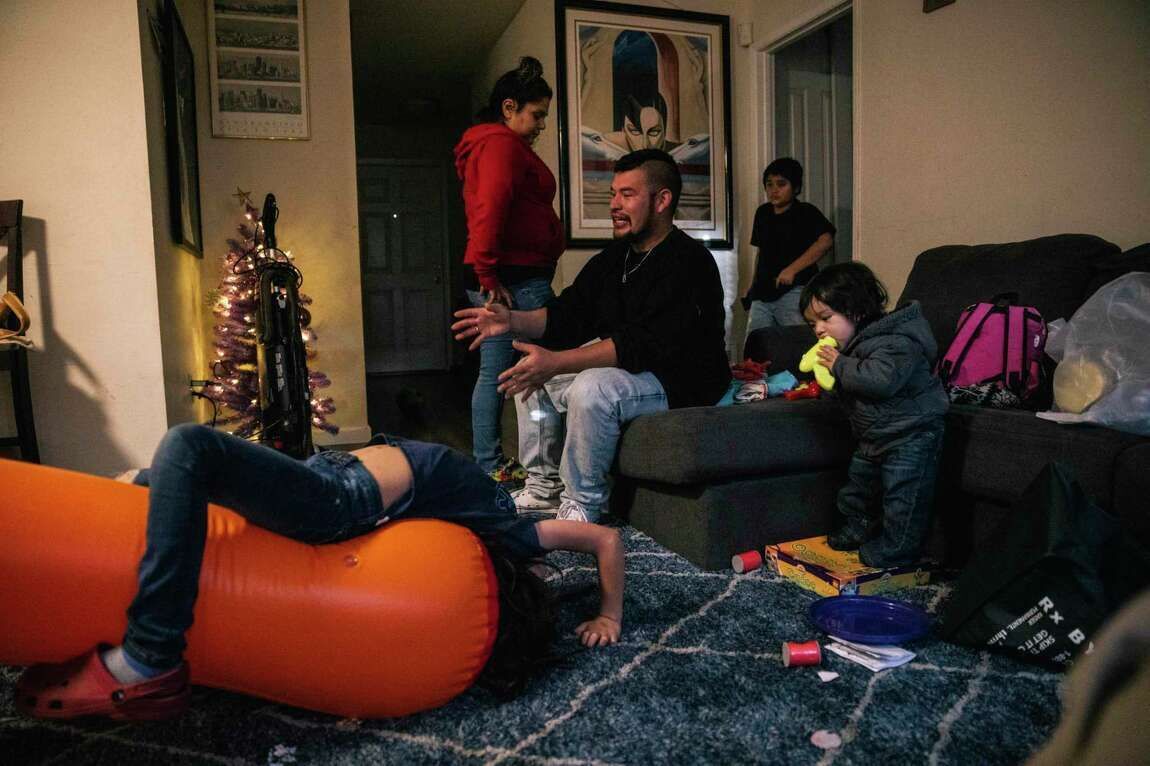 So why don't they expect presents? Because they've already gotten the only thing they really, really wanted this holiday:

A home.
Last year, Claudia Arevalos and her partner, Ricardo Mendoza, were in a tent on a windblown corner of the Bayview neighborhood, and their four children slept on couches and doubled-up beds in their grandparents' small house. Arevalos and Mendoza had been on that corner in that tent, hooked on methamphetamine, for five years while their parents and children prayed every Christmas they would shake the drugs and rejoin housed society.
Their prayers got answered just before fall when the couple became drug free and moved into a three-bedroom apartment with a government rent subsidy voucher. The flat is 10 minutes from their old tent, but on a pretty rise of winding streets with a tree-studded view of the southern hills and bay waters.
"We feel so very blessed, and the only thing we wanted for Christmas was this apartment, a place to be with our children," Arevalos, 31, said, stroking the head of 1-year-old Damian Mendoza as he slept in her lap. "Nothing else is as important as this."

Last spring, the couple applied for and got an emergency housing voucher through Catholic Charities, hoping to get drug-free inside — but finding a landlord who would rent to them was hard. Over and over, they and their Catholic Charities case manager were turned down, and their luck turned only in September, when they landed the apartment and moved in with all four kids, three dogs and a pet turtle.

Catholic Charities provided the first month's rent and security deposit, and it and other charities kicked in beds, tables, sheets and other supplies for moving in. With the voucher, the family only has to pay 30% of its income for rent.

"I am so thankful to the Lord for them being in a home at last," said Arevalos' 62-year-old mother, Sonia Cervantes. "For so long, I kept crossing my fingers. The kids understood what was going on, and we tried as hard as we could to make life comfortable for them. But it was up to Claudia and Ricardo to make things happen. And they did."

Read the full story: sfchronicle.com/bayarea/article/SF-family-Christmas-reunion-17675134.php

Help us house more families: give.catholiccharitiessf.org/holidayhope/