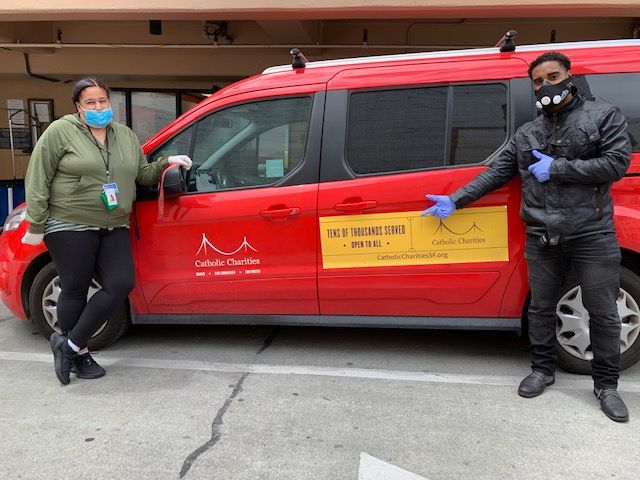 Our neighbor's struggle is our call to action. At Catholic Charities, we are on the frontline helping feed families, individuals, children, and seniors in our community who are experiencing hunger and food insecurity, many for the very first time. We have expanded our food pantry and delivery services to meet the growing need for sustenance and basic nutrition to address the rapidly growing economic repercussions from the coronavirus pandemic.
Every Thursday, as we have for years at Catholic Charities OMI Senior Center, our employees, now masked and gloved for safety, gather to pack and distribute food from the San Francisco Marin Food Bank to seniors in need. On Tuesdays, we join forces with our longtime community partners, the YMCA and Community Living Campaign, to give out groceries to the growing number of families struggling to make ends meet. Together on these two days, we provide close to 1,000 households with food they might otherwise go without every week.
As not everyone feels safe or is able to leave their home during COVID-19 to get groceries, Catholic Charities employees, some redeployed from programs closed due to the pandemic, deliver healthy meals to the doorsteps of seniors living independently in our community. With these meals, we also give seniors hygiene bags that include hand sanitizer, reusable masks, and toothpaste donated and packaged by the Order of Malta. For many, these quick, socially distant visits are the only in-person connections they have outside their homes. The moments give us the chance to do wellness checks and let our seniors know we remember and care about them.
We are deeply grateful to Clint and Janet Reilly, longtime Catholic Charities supporters, for their generosity to and investment in our community. Clint served our agency as Catholic Charities Board of Directors President, is currently a Board Emeritas member, and his strong dedication to our agency continues today. For eight weeks, chefs from Clint and Janet's restaurant, Credo, lived their mantra, "Feed the People," by cooking delicious, healthy meals which we shared with hungry San Francisco seniors and families. Additionally, the Reillys provided meals three nights a week to the residents at San Francisco's largest shelter-in-place hotel for families experiencing homelessness run by Catholic Charities. The many meals the Reillys provided and their chefs created, not only filled bellies, but demonstrate the power of individual action and compassion in an uncertain time.
In addition to the food and compassion we are fortunate to share with our community, we have also been distributing grocery store cards to families thanks to grants from the United Way Bay Area, Silicon Valley Community Foundation and Stupski Foundation. With the Stupski and Catholic Charities USA Robert Wood Foundation grants we were able to purchase additional Food supplies and set up our food delivery service and add a 2 week emergency food stock to some of the other food pantries we operate at Catholic Charities, including Hazel Betsey and Rita da Cascia Communities for women and children impacted by homelessness and chronic illness and our Peter Claver and Leland House Communities, residential programs for formerly homeless people living with HIV/AIDS. Partnerships like these help us reach the increasing numbers of people in need during COVID-19 – and beyond.
Learn more about the work we are doing to solve food insecurity here.