Adult Day Services – San Francisco
Since 1991, Catholic Charities Adult Day Services has offered a sensible and affordable option for care and companionship during the day to residents of San Francisco. In addition to providing a broad range of recreational and social activities, our program offers non-medical personal care, supervision, and assistance with activities of daily living.
We offer an environment which respects the dignity and life experience of those who might otherwise become bored, isolated and lonely. We help their families keep them in their own homes and communities as long as it is safe for them to do so. We provide support to caregivers who may be facing one of their most challenging roles, often with little experience or training.
Our program is situated in a bright, spacious setting with multiple activity rooms and an enclosed courtyard in the back. With no more than 32 participants per day, we offer a range of fun and stimulating activities, the opportunity to make new friends, and an environment of warmth and respect created by our experienced staff.
We are conveniently located in the southern part of San Francisco with easy access to Highway 280 as well as Muni's M-Line and 54-Line a half a block away. Ample free parking is available for visitors.
We are currently looking for volunteers for Adult Day Services. We are looking for individuals to help stimulate the people who have memory issues, through activities. Assist staff in playing games like bowling, doing simple crafts, telling stories or just chatting. Hours are Monday- Friday from 9:30 - 3:30. Must apply and be approved before volunteering.  We are hoping for a 6-month commitment. Apply here if interested. 
Alzheimer's Day Care Resource Center
Located within Adult Day Services San Francisco, Alzheimer's Day Care Resource Center provides a safe, structured environment in which frail or chronically impaired seniors and disabled adults can safely participate in social, educational, and recreational activities.
Our staff specializes in serving people who require full-time supervision and assistance with daily activities as they face middle- to late-stage Alzheimer's disease.
This program is an affordable alternative to in-home care or placement in a residential facility. It is designed to provide stability and consistency in the lives of participants and their families.
Facility License - 385 600 087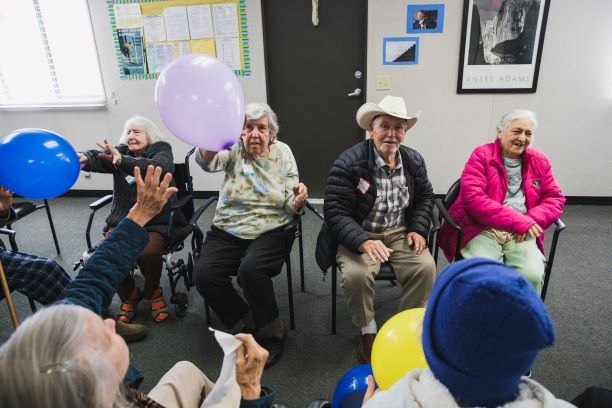 Testimonial
"We are so grateful for Catholic Charities Adult Day Services. The services and support they provide to my mother who has Alzheimer's and to our family is a constant asset in several respects.
For my mother, this place provides a safe, nurturing and productive environment outside of our home. We feel having a daily routine and the mental and social stimulation offered here is very helpful in maintaining my mother's functional abilities, as well as her physical and emotional well-being.
For my father, daycare for his spouse provides a much needed established separation time for his privacy, rest and personal care.
The impact and the effects of having a close family member who requires constant supervision can be extremely taxing both physically and emotionally. Catholic Charities Adult Day Services has brought positive assistance into our family."
Contact: 415 452 3500