Catholic Charities is one of the largest, most comprehensive human services agencies in Northern California reaching more than 32,000 people annually in San Francisco, San Mateo, and Marin Counties. We are an integral part of our communities and play a role in keeping our neighborhoods diverse, productive, safe, and healthy through more than 25 programs and social justice advocacy.
We create lasting, data-driven solutions to some of the most pressing challenges in our community - homelessness, inequality, aging in isolation, generational poverty, HIV/AIDS, and immigration to name a few. Tough issues we face with determination, grit, tenacity, and collaborative problem-solving with those we serve. Our results change lives.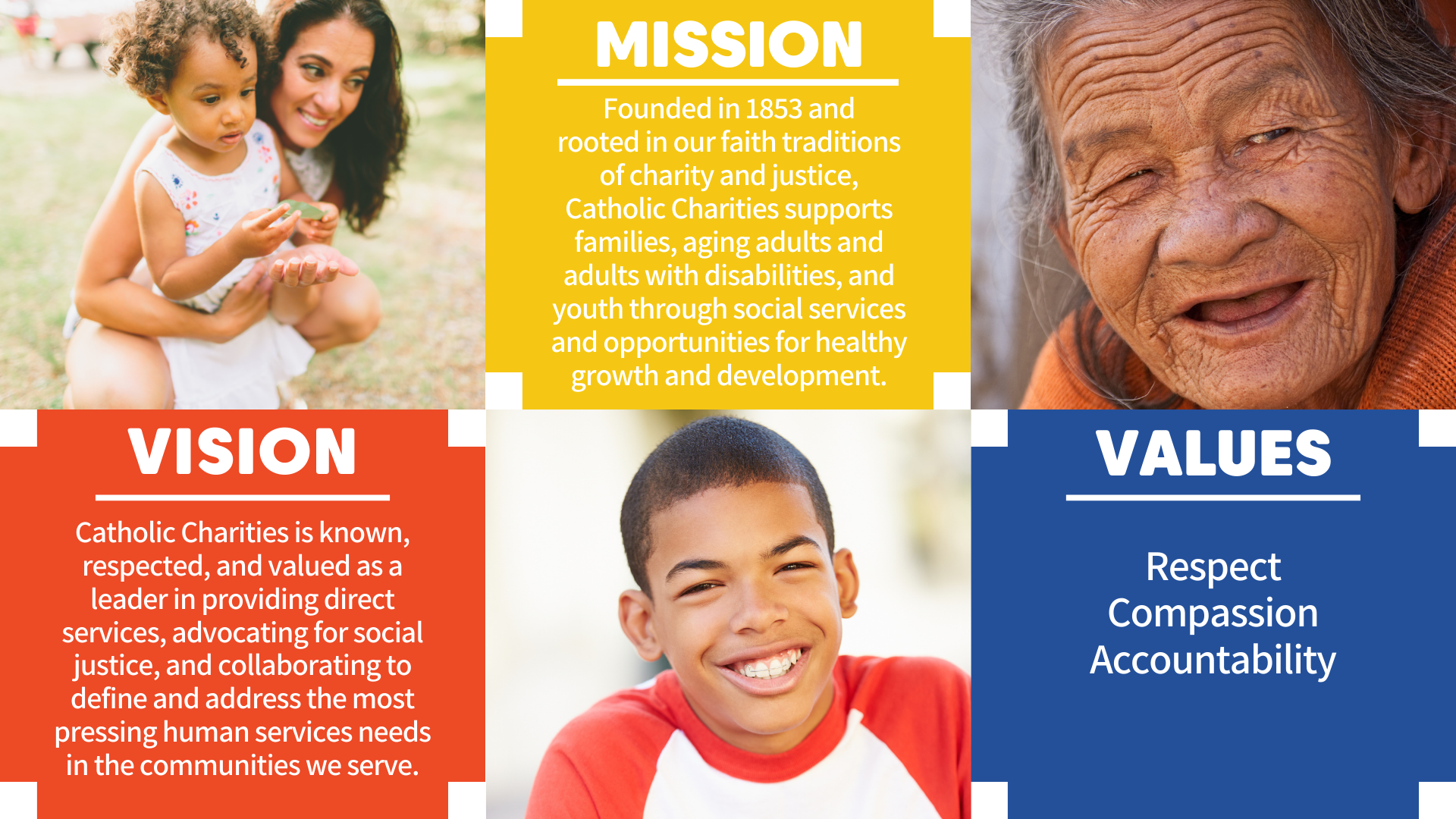 Since 1853, Catholic Charities has reached out to all people in need regardless of religion, race, creed, or gender. In fact, the majority of our clients and employees are not Catholic. Our clients represent all of us: individuals, families, children adults, and seniors. We welcome everyone with compassion, understanding, and respect.
Our Faith
Catholic Charities was founded and thrives today on the social teachings of the Catholic Church. Though associated with the San Francisco Archdiocese, we operate independently as a separate 501(c)(3) nonprofit organization. We do not directly contribute funds to the church.
Our Impact
From an individual to a program to our agency, Catholic Charities sets goals for improvement, knowing the impact on each individual has much larger implications. City, county, and state-wide statistics about the populations we serve drive our commitment to each person that walks through our doors.
How is Catholic Charities affiliated with the Archdiocese of San Francisco?
Catholic Charities San Francisco was founded more than 170 years ago, established in 1853 to meet social service needs of our Bay Area community through the Mission of strengthening families and reducing poverty by serving people of all cultures and beliefs.
Our values remain compassion, accountability, and respect. We have been serving the most vulnerable in our community continuously ever since. Today, while we operate as a completely separate entity, the Archdiocese is our partner, aligning with our work to support our mission-driven staff and partner organizations across San Francisco, Marin, and San Mateo counties as we share our message of peace and hope to a world in need.
Your tax-deductible donation to Catholic Charities directly supports our work to provide services for the most vulnerable population in our community.