Kevin Fauteux, Ph.D, MSW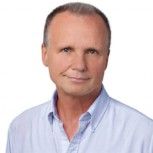 Dr. Fauteux joined Catholic Charities in 2003. He has worked for more than two decades in the psychotherapeutic and social services field, specializing in working with clients who face major anger issues. Dr. Fauteux was previously a Director for Lutheran Social Services and was responsible for overseeing five programs that included housing, money management, and integrated services.
Dr. Fauteux has published two books, including Defusing Angry People: Practical Tools for Handling Bullying, Threats, and Violence, which outlines how to identify the levels of a person's anger and employ the appropriate techniques to defuse it. In addition, he regularly contributes to several psychology and religious journals.
Education
BA, Fairfield University
Master's of Divinity, Yale University
MSW, University of Connecticut
Ph.D. Psychology, Graduate Theological Union in conjunction with UC Berkeley